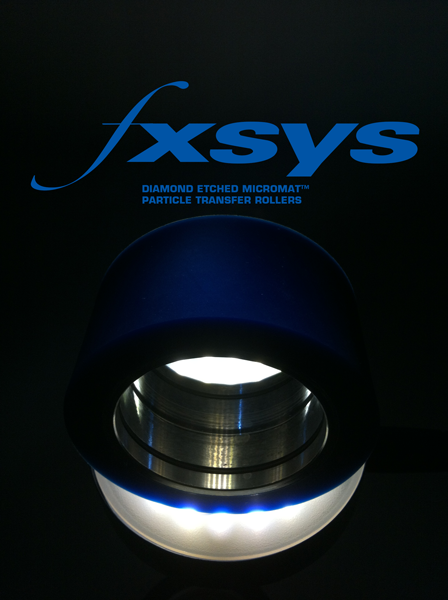 Moving Image Tools and Technology/flashscan8.us is the master distributor for the well-regarded FXSYS Particle Transfer Rollers, (until 2010 made by San Lab Systems)
These specially finished, premium PTRs have been the chosen PTR in post production facilities and with major film scanner manufacturers world-wide.
They are available in two diameters and two widths: 1.5″ and 3″ diameter and 35mm and 70mm.
Click HERE for pricing and ordering information. Online ordering coming late Q4, 2018.
"FXSYS PTRs are made in controlled environment with a Durometer range of 28-34, which is ideal for use with motion picture film," FXSYS co-founder and former marketing director Ganesh Sankar advised us when flashscan8.us became the US distributor in 2010. "Testing confirms that," he told us.
Controlled temperature and humidity during manufacture eliminates bubbles, and avoids too hard a surface.
"If too hard, it won't pick up as much. Too soft, it tends to shred at the ends," Sankar said.
Several customers using another brand reported shredding to the FXSYS distributor in the US during conversations in Autumn, 2010.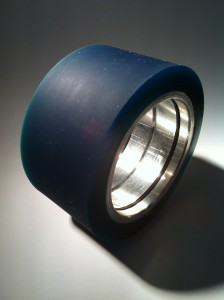 "The FXSYS diamond-etched MicroMat™ Microgrooved PTR's pick up a noticeably greater amount of particulate matter than plain PTRs from a well known competitor," Sankar reported.
"The grooves act like tire treads do in mud and snow."
Testing by SanLab in 2004 verified the observation. A staff chemist ran side by side comparisons, Sankar says.
"The chemist applied a uniform amount of dust to a wide, slightly sticky tape, then did an equal number of rolls over separate parts of the the tape using the Microgrooved MicroMat™ PTR's and the competing PTR," Sankar said.
"By magnifying the surface hundreds of times, the chemist was able to count number of particles in an area of each PTR. The Microgrooved PTRs had noticeably more to count, up to 60% more particles."
Tacky Red™ PTRs have special applications: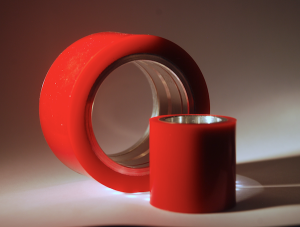 They were designed to meet customers' requests.
The FXSYS Tacky Red™ PTR has a softer durometer reading between 20-24. The softer, ungrooved tacky surface picks up even more material than the MicroMat™ Microgrooved PTR's and is usable until its covered with undesirable material.
Not for high-speed use. 1.5″ x 35mm and 3″ x 35mm are available.
All FXSYS PTRs are anti-static: Surface resistance has been reduced to where the Micromat™PTR conducts static electricity away from the film to control static buildup during use.
Lifespan of the PTR's depends on film volume: FXSYS estimates the MicroMat™ PTRs will remove dust, dirt and lint from film for a period of three to four months of constant use, if cleaned properly and regularly.
The Tacky Red™ PTRs can be washed perhaps five times and then need to be replaced.
FXSYS PTR's are easy to clean (See instructions below)
Multiple ways to use FXSYS PTRs:
Film labs use them in cleaning machines and processors.

Archival film restorers use a pair between rewinds to clean film without using a machine.

Film transfer houses and in-house facilities use them on their telecines, scanners

Theaters and screening rooms use them on projectors during projection
Film Inspection Tables can use them during inspection
Users over the years include Technicolor, Deluxe, Ascent Media Group's post facilities in New York and Los Angeles, Warner Bros., NBC/Universal, High Technology Video/Illuminate and New Wave Entertainment all in Los Angeles, Showperfect, Inc., Moorpark, California, NFL Films, Mt. Laurel, New Jersey, DuArt Film and Video, New York City, The Filmworkers Clubs in Chicago, Dallas and Nashville, NASA Johnson Space Center, Houston, Texas, AnalogRetentive, Richmond, Virginia, Alaska Film Archives, Fairbanks, Continental Film and Video, Orlando, Florida, Crawford Communications, Atlanta, Georgia, Chapman University, Orange, California, ImagineIt LLC/Video Conversion Experts, Chandler, Arizona, Tailor Made Transfers, Feasterville, Pennsylvania, University of Georgia, Athens, New York University Moving Image Archiving Program, New York City, Film•Video•Digital, Hanover, New Hampshire, Northeast Historic Film, Bucksport, Maine, San Francisco TV Archive at SF State University, Wolfson II Archive at Miami Date Community College, Foley Middle School, Foley, Alabama, Memorable, NorthUCLA Film and Television Archive, Los Angeles, Mystic Seaport, Mystic, Connecticut, Visible Sprockets, UK and its film scanning and lab customers in Europe, Africa, the Middle East and Asia.
Equipment makers including MWA Nova, Digital Film Technology (DFT Scanity, Spirit) Digital Vision (GoldenEye including 70mm,) Kinetta and others have included FXSYS PTR's on systems because of the quality.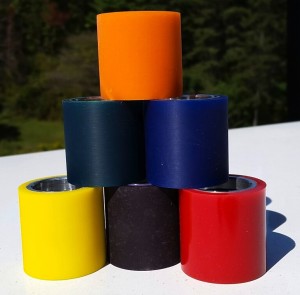 FXSYS PTR's are available in many colors, including blue, green, purple (black) yellow and orange, subject to stock on hand or by special order.
• All colors (except Tacky Red™) are identical in function, differing only by their color.
• Many customers use different colors to identify different PTR Sets, use different colors for different film formats or simply have a color preference.
FXSYS Ultra Precision rollers and related bearings for telecine tightwind accessories are also available.
PTR Cleaning Instructions: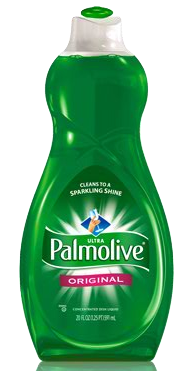 • Put two to four drops of ordinary Palmolive® brand hand dish-cleaning detergent in a liter of room temperature or cold water.
• Dip or soak the PTRs in the water for a short time.
• Then thoroughly clean the surface by rubbing with your hands and the detergent water.
• Allow to air-dry in a particle-free environment and use.
• FXSYS recommends Palmolive® detergent (Original) like Madge used in the 1960s-70s Palmolive TV commercials.
• Use slightly more detergent if the water is "hard".
• Do not use dishwasher detergent!
• Do not use hot water as it can cause PTR's to become very sticky and cause excessive adhesion and potential damage to the film.
• Do not use packaging (packing) or other tapes to clean a PTR! Packaging tape will transfer some of its adhesives to the PTR and cause excessive adhesion of the film to the PTR, to the film and attract dust or dirt where you don't want it.
• Simply wash the PTR's and allow them to dry thoroughly before re-installation.
• If cleaned properly, PTR's should roll off of one another when stuck together. PTR's that stick together without falling off must be re-washed in cold water and (Palmolive®) detergent.