Welcome to our section about Live Streaming Tools and Tech for On-line, Social Media, Business, Broadcast, Churches, Schools and Education
We provide consultation to help you identify immediate and long-term objectives, the equipment and training to get started, and new technology to upgrade existing facilities.
Here are some ideas beginning with simple tools for Live Streaming: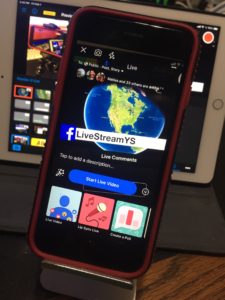 Your Smartphone, like this iPhone, or your Android phone streaming to your Facebook page or YouTube account.
Today's phones are simple ways to go Live to Social Media.
We can train you how to do simple Live Shots to your business or organization's Facebook page or YouTube account, and share that Live Stream or recording to other social media or webpages.
We can also supply relatively low-cost accessories to improve sound, stabilize pictures and add graphics to your live streams or recordings.
Click here to arrange a demo or get more information about training and accessory packages.
More sophisticated productions can be done with tools like iPads, and multiple iPhones using Switcher Studio as the hub!
Here's an iPad Air2 with Switcher Studio Live Streaming software showing images from iPhones used as cameras.
Switcher Studio now enables bringing in off-site participants via iPhone, and treating the long-distance video like another camera.
We do small projects as a way to showcase how to easily live stream. Ask about having us Live Stream a project for you.
We acquired used, good-condition iPhone 6S models, so our costs were relatively low, yet we are able to stream 1080p live video, and record inside the iPhone, too. The recordings can be easily downloaded, are easily synchronized and edited in FinalCut Pro X: You can fix live-switching mistakes, condense, add graphics or new content, or simply upload a higher-quality file.
We can supply the Switcher Studio software, iPhone/iPad clamps, tripods and other live production accessories, and, if needed, iPhones and iPads. Click here to arrange a demo or get more information.
Live Stream Sports with one camera, and add scoreboards, full screen graphics and more!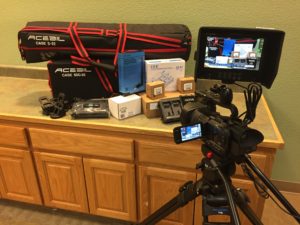 Live Streaming and Live Streaming Sports camera packages featuring either the JVC GY-HM250 or JVC GY-HM250SP "4K" UHD camera and 7 monitor, three batteries, dual battery charger, USB WiFi, pan handle mounted remote zoom/focus/camera control unit, Acebil fluid head and 2-stage tripod, dolly, rain cover, lens protection and cleaning kit.
These cameras enable live streaming directly from the camera, and graphic overlays without needing any external devices.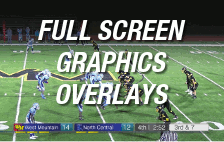 Prepared Logos and Graphics can be uploaded and displayed live! SP (Sports) model has live scoreboards for various sports. Scorebot package enables updates from stadium/arena scoreboard controller.
The JVC GY-HM250 model has $300 instant rebate through March, 2019. Great for 2019 budget planning. FREE 3-Year extended warranty when registered within 30-days of purchase! Click here to arrange a demo or get more information.
Worship Spaces can live stream with one or more remotely-controlled Pan-Tilt-Zoom (PTZ) camera, placed unobtrusively.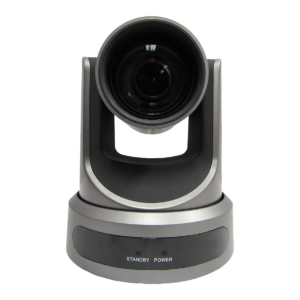 This PTZ Optics 12X PTZ Camera is one brand and model of PTZ camera that we provide.
Controlled by a dedicated joystick controller, Live Streaming software like vMix, Telestream Wirecast, OBS, or others, or even wirelessly aimed via an iPhone or iPad, these cameras can be placed where a human-operated camera would be too big or would not be appropriate.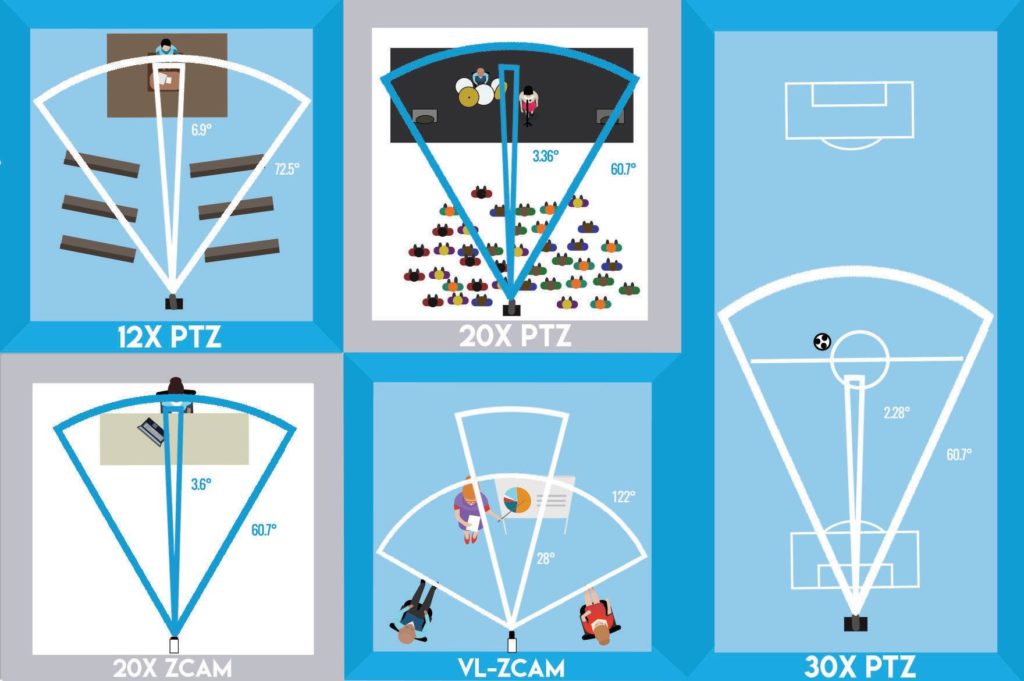 Here are some examples of the PTZ and fixed focal length or zoom-only camera angles PTZ Optics cameras can provide, for worship, education, talking heads, training and sports.
With cameras from PTZ Optics, Sony, JVC, Panasonic, Lumens PTZ cameras and HuddleCamHD Conferencing cameras, we're able to match performance to expectations, and keep you happy.
Sports, Worship, Education and Government

can effectively use

PTZ cameras

. Ask us about how to incorporate them into your situation.
Remotely controlled Pan-Tilt-Zoom Cameras
(PTZ) are quite popular for live streaming and recording of worship services, meetings and other events or even small conference settings.
Remote PTZ cameras come with various capabilities
, including live streaming directly from the camera, or feeding pictures and sound to a multi-camera switching setup over SDI cable, HDMI cable, Cat6 network cable or even wirelessly.
Don't get confused. Let us help you keep your sanity!
We can help you determine what is the current "best fit" for you now, and guide you toward future-proofing what you use and how you use it.
Multiple Camera, Live Streaming Productions:
Multi-camera productions can be prepared using live switching gear from a variety of brands. Here's just one example:
This system is from JVC, which provides easy connection and lots of capabilities in one package.
JVC's ProHD Studio 4000S
is a self contained 4 channel, live
sports
production and streaming studio that offers professional results. It's Zero Config feature provides instant connectivity with any JVC IP camera, ISO recording of all cameras, and instant replay capability. Whether you connect cameras with HD-SDI, HDMI or IP streaming, the ProHD Studio can handle it–and with ease. Instant replays with slow motion are available on all cameras making this the ideal production tool for any sports application.
A standard

"non-sports" model

without instant replay is about $2,000 less

and was

named one of Church Production's "Top 5" items seen at NAB 2018

.
Ask us
about configuration and options.
We provide other brands of Live Streaming multi-camera production packages:
PTZ Optics
Cameras
and Producer or
Producer+
packages like the package seen to the left. The PTZ Optics Producer+ Kits come with up to four cameras, Joystick remote controller with presets, Intel NUC PC with Windows 10, Thunderbolt expansion chassis with SDI capture card, Audio interface and cables. The cameras are available in 12X, 20X and 30X zoom lens models, so we can help you match the "reach" of the camera to your situation. The PTZ Optics lineup is proving popular with Churches, Schools, Businesses and Government Agencies looking for a reliable camera with a competitive price.
Other Live Streaming Tools we supply include:

Blackmagic Design
's
ATEM switchers
,
cameras
, and well-known "boxes" that convert and adapt signals from one kind to another.
Packages can be set up with a variety of Mac or PC based Live Streaming software or hardware from Telestream, Livestream by Vimeo, vMix, OBS and others.
Making pictures is just part of Live Streaming. Getting the stream to people is another challenge.
Tools from Vimeo, Livestream, Intinoor and others help get the stream into the internet, to Content Distribution Networks reliably, and to your viewers.
Ask us
for details about these products, packages, or other tools, technology, consultation and training you need to get started Live Streaming, or to expand your existing capabilities!
We're located in Yuba/Sutter, north of Sacramento, California, but can help you with Live Streaming Anywhere!
CEO: Ted Langdell
(530) 301-2931